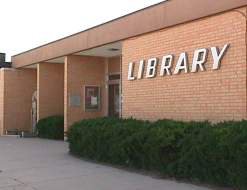 The Satanta library was founded in November 1931 by four Satanta women's clubs: The American Legion Auxiliary, Santee, Owaissa, and Wohelo. The Santee and Owaissa clubs were both still active until a few years ago. The young Owaissa is still active today and is called the YO club.  At the back of the yearbook is a handwritten copy of the bylaws and a newspaper clipping with the heading "Clubs launch Campaign for City Library".
The Library was founded during the Great Depression and the lean economic times of the Dust Bowl years.  During this time the library received funding for the librarians salaries from the Kansas Emergency Relief Committee (KERC).  Later funding came from the Works Progress Administration (WPA) which was part of the President Franklin D. Roosevelt's New Deal project.
The November 17, 1931 minutes noted that the Constitution and By Laws were read and accepted as written. The Elementary School Board voted to allow the library be located in a room at the grade school building.  The first Library Board members were:
President:  Mrs. James Patrick
Vice President:   Mrs. Irene Chaney
Secretary:  Mrs. Maggie Kennedy
Treasurer:  Mrs. Allie McDonald
Mrs. Janice Angel
Mrs. Emily Hoffman
Mrs. Cora Lou Williamson
Mrs. Etta Piner
Mrs. Nora Ungles
Mrs. Warner
Mrs. Feight
The rules for checking out a book in 1933:  only ONE book could be checked out on a card, unless the individual pay 10 cents for a second card to permit checking out a second book.
Today the Dudley Township Library is funded through a mill levy through Dudley Township. In December 1961 a blond brick building was completed at 105 Sequoyah to house the Dudley Township Library.  The building was added onto in the 1970's.
History of the Satanta Library was first shared at the December 1, 2008 Satanta Chamber of Commerce luncheon.  The information was drawn from the library board minutes from 1931-1944 by Leanne Tschanz, Dudley Township Library Board member.
Author's notes:  My primary source of information is the handwritten minutes of the library board from November 1931 to January 1944. The minutes were recorded by hand in a 1929 Yearbook compliments of James Patrick, a bonded abstractor.  James Patrick bought the first building lot in Satanta in 1912 and his real estate office was one of the first businesses in Satanta.